Pecan Crusted Honey Mustard Chicken
Jump to Recipe
Last week I actually googled, "not boring chicken recipes" because I was that desperate. Been there, too? (If I see one more balsamic chicken recipe, I'll go mad!) I've been trying to add more variety of proteins to my weekly menu, but it seems chicken makes up at least two to three meals. After they all started looking like the same recipe, I finally saw a pecan crusted cod recipe that caught my eye. (Thank you, recipe gods!)
I didn't have any cod on hand so I tweaked it a bit for the chicken breasts I had in my fridge. When I made this dish last night, Preston immediately exclaimed it was a winner! He actually cleaned his plate, including the veggies. If you knew him, you would know that was a miracle unto itself.
This dish is far from boring, friends. The pecan crust really kicks this up a notch and pairs well with the sweetness of the honey mustard.
A couple of quick notes, I warmed up the honey mustard in the microwave for 20 seconds or so before I drizzled it on the chicken. I served this with roasted green beans and mashed red potatoes for a hearty, comfort meal. If you want something a bit more decadent, creamy macaroni would be awesome with it!
If you makes this for dinner one night, please tag me. I'd love to see your creation! #HSCinthekitchen
similar serving platter linked here
blue willow dinnerware linked here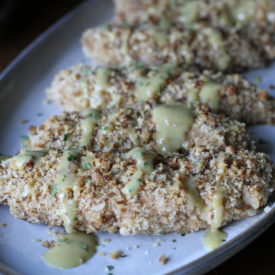 Pecan Crusted Honey Mustard Chicken
Ingredients
4

chicken breasts

3

tbsp

dijon mustard (divided)

3

tbsp

mayo (divided)

3

tbsp

honey (divided)

3/4

cup

finely chopped pecans

2/3

cup

panko break crumbs

1

tsp

paprika

1

tsp

onion powder

1

tsp

garlic powder

1

tbsp

parsley flakes *optional*
Instructions
Preheat oven to 425 degrees.

Line a baking sheet with parchment paper and set aside.

Finely chop pecans into small pieces. If you want to use a food processor, make sure you do not chop them so small it becomes a powder.

In a shallow dish toss together pecans, breadcrumbs, paprika, garlic powder and season with pepper to taste.

In a small mixing bowl stir together 1 Tbsp dijon mustard, 1 Tbsp mayonnaise and 1 Tbsp honey

Pound chicken to an even thickness (about 1/2-inch). Dry chicken with paper towels then brush top side of chicken with honey mustard mixture and season with salt and pepper.

Transfer one piece of chicken to panko pecan mixture, honey mustard side down. Brush top side of chicken piece with honey mustard mixture again and season with salt and pepper. Turn chicken and press to coat.

Chicken should be very well covered with panko pecan mixture.

Transfer coated chicken to baking sheet. Repeat this process with remaining pieces of chicken, leaving space between them. Add any extra pecan mixture to tops of chicken and press down.

Bake chicken in oven until cooked thoroughly (about 20-25 minutes.) A meat thermometer should register 165 degrees. If you see the pecan topping is browning too quickly during baking, then tent chicken with foil.

While the chicken is baking, in a clean small mixing bowl stir together remaining dijon mustard, mayo and honey. Whisk together until creamy.

Drizzle chicken with new honey mustard mixture and serve warm. Garnish with parsley flakes.